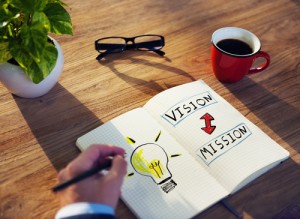 Vision & Mission Guidelines
Don't do it alone
Don't be overly optimistic but…
Think about "stretch"
Watch out for organizational inertia
Don't be too preoccupied with the bottom line
Be flexible and patient in implementing the vision & mission
Never get complacent; Be relentless.
Learn How to Build Effective Vision & Mission Statements
A clear vision and mission are important ingredients to providing the right kind of direction for a company.
Having a strong vision and mission will add significantly to any planning process.
Vision refers to a future state, a condition that is better than what exists now, whereas mission refers to the present.
Vision is an explanation of the organization's desired identity and ambition.
Mission is concerned with the purpose of the organization and the way the organization is managed to achieve the vision (behavioural standards).
The vision and mission's power lies in its ability to grab the attention of both those inside and outside the organization and to focus that attention on a common dream – a sense of direction that both makes sense and provide direction.
These are not idle dreams of magical solutions to today's complex organizational problems. Rather, it is a clear image of what an organization could and should become if it is to realize its full potential.
Learn more about how to create effective vision and mission statements by looking at this video and the manual